"Flying Pancake" – Vought V-173
The Vought V-173 "Flying Pancake" was an American experimental test aircraft designed by Charles H. Zimmerman and was built as part of the Vought XF5U "Flying Flapjack" World War II United States Navy fighter aircraft program.
Both the V-173 and the XF5U featured a rather unorthodox "all-wing" design consisting of flat, somewhat disk-shaped bodies (hence the name) serving as the lifting surface. Two piston engines buried in the body drove propellers located on the leading edge at the wing tips.
The original prototype, designated the V-173, was built of wood and canvas and featured a regular, fully symmetrical aerofoil section. Designed as a "proof-of-concept" prototype, the initial configuration V-173 was built as a lightweight test model powered by two 80 hp Continental A-80 engines turning F4U Corsair propellers.
These were later replaced by a pair of specially modified 16 ft 6 in three-bladed units. A tall, fixed main undercarriage combined with a small tailwheel gave the aircraft a 22° "nose-high" angle.
The disc wing design featured a low aspect ratio that overcame the built-in disadvantages of induced drag created at the wingtips with the large propellers actively cancelling the drag-causing tip vortices.
The propellers were arranged to rotate in the opposite direction to the tip vortices, allowing the aircraft to fly with a much smaller wing area. The small wing provided high maneuverability with greater structural strength.
In January 1942, the Bureau of Aeronautics requested a proposal for two prototype aircraft of an experimental version of the V-173, known as the VS-135.
The development version, the Vought XF5U-1, was a larger aircraft with all-metal construction and was almost five times heavier than the first prototype.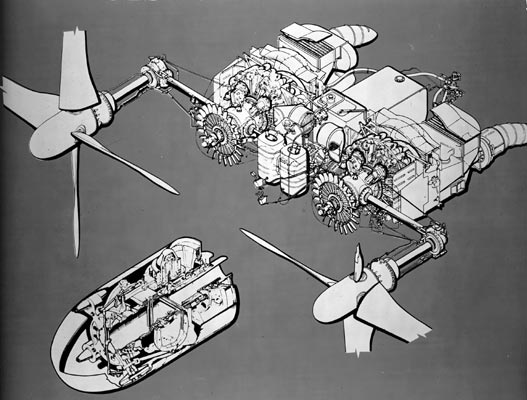 The first flight of the V-173 was on 23 November 1942 with Vought Chief Test Pilot Boone Guyton at the controls. The aircraft's most significant problem concerned its complicated gearbox that routed power from the engines to its two long propeller shafts.
The gearbox produced unacceptable amounts of vibration in ground testing, delaying the aircraft's first test flight for months.
Charles Lindbergh piloted the V-173 during this time and found that it was surprisingly easy to handle and exhibited impressive low-speed capabilities.
On one occasion, the V-173 was forced to make an emergency landing on a beach. As the pilot made his final approach, he noticed two bathers directly in his path. The pilot locked the aircraft's brakes on landing, causing it to flip over onto its back.
Remarkably, the airframe proved so strong that neither the plane nor the pilot sustained any significant damage.
The developmental V-173 made its last flight 31 March 1947. In 131.8 hours of flying over 190 flights, Zimmerman's theory of a near-vertical takeoff and landing-capable fighter had been proven.
The V-173 is now part of the Smithsonian collection at the Paul E. Garber Preservation, Restoration, and Storage Facility in Silver Hill, Maryland.
It was restored at the Vought Aircraft plant in Grand Prairie, Texas, as of April 2012 it is on loan to the Frontiers of Flight Museum in Dallas, Texas.
This 3-minute video shows the model and actual plane flying.
Article is from War History online.
####################################################################################
Military Humor –
####################################################################################
Farewell Salutes –
Lee Alexander – Ashton, ID; US Army Air Corps, WWII, PTO, 11th Airborne Division
Atereiti Blair – NZ; NZ Air Force, WWII, nurse
Rufus Britt – Gassville, AR; US Navy, WWII, electrician, USS O'Toole
John Cotton – Broad Channel, NY; US Navy, WWII
Richard Ennis – WA; US Army Air Corps, WWII, ETO, POW
Roland Hayes Jr. – Shelbourne, NH; US Army Air Corps, WWII, PTO
Nelon "Tex" LaCount – Syracuse, NY; USMC, WWII, PTO / Korea, Sgt.
Georges Loinger (108) – Strasbourg, FRA; French Army, POW (escaped), French Resistance
Victor Mellen – W. Pelham, MA; US Army Air Corps, WWII, PTO, 1st Lt., navigator
Stephen O'Brien – Dubuque, IA; US Army, WWII & Korea
Doris (Gradwell) Plagenhoef – Scarbourgh, ME; US Army WAC, WWII, PTO, nurse
############################################################################################
Posted on January 3, 2019, in Uncategorized, WWII and tagged 1940's, Airborne, aviation, History, Military, Military History, Pacific War, veterans, war, WW2, WWII. Bookmark the permalink. 176 Comments.